Like I've previously mentioned, I was so lucky to attend Skip's Summer School in Las Vegas last week. It was two and a half days of intensive learning. I got to learn from and meet such industry greats like: Skip Cohen, Scott Bourne, Bambi Cantrell, Yervant, Joe Buissink, Stacey Pearsall, Sarah Petty, Clay Blackmore, Tony Corbell, my Utah buddy Jon Canlas, Dane Sanders, Jasmine Star, Kevin Kubota, Cliff Mautner, etc etc I'm just dong a whole lot of name dropping here. I took (no lie) 37 pages of notes. It was intense!
Here are some snippets of information I gathered in totally random order:
* I learned tips on becoming a better story teller from Dane Sanders
* I learned about pre visualization from Scott Bourne
* Joe Buissink had the entire room in tears. His photos are not just photos. They are once in a lifetime, fleeting moments captured with a camera with an intense story behind the image to last forever. This is something we create for all our clients. From Joe Buissink: Shoot from the heart, shoot with passion. Don't fix the images, enhance them. There is no such thing as a perfect image, only a perfect moment.
*From Jasmine Star: Fail at something you love than succeed in something you hate. In your photography business, leverage your assets. "Shake what your mama gave you" and make it work. The only thing that sets you apart from everyone else is
you
. Use it to your advantage. Don't let other photographers define your style and K.I.R.! (Keep it real!) Just because you can use photoshop doesn't mean you should. Use photoshop like you would salt on a meal, to enhance the flavor.
*From Kevin Kubota: Ideas on a lot of photography projects/assignments to broaden your horizon and make you a better photographer.
*From Yervant: What we put on the photo paper is the value, not the paper itself.
*From Skip Cohen: The best thing about the photo industry isn't the photography, it's the friendships.
*From Cliff Mautner: "Buying a Nikon doesn't make you a photographer, it makes you a Nikon owner." haha. How to photograph in
any
light (yes, even mid-day harsh overhead light.) "If it makes you laugh, if it makes you cry, if it rips your heart out, it's a good picture. -Eddie Adams
*Every single person has their own unique and individual style. No two photographers are alike (unless their copying each other).
* Collaborate and make friends with other photographers. They are more of a help than you know. Don't compete, collaborate. I was so fortunate to make so many amazing friends.
*One thing I found interesting is that there were attendees who have been in business for a short time, and people who have been in business for 20+ years. Every single person had questions and challenges. Everyone was so humble and supportive of one another.
*People came from as far as South Africa, the Philippines, and Australia to attend.
*
For my Utah peeps:
Where were you? I missed you! Utah has a reputation for being an over-saturated market of photographers. Guess how many photographers were in attendance from Utah....THREE! Myself included (out of 150-200 people). I would have loved to make more Utah photographer friends to swap ideas with.
As you can see, I had/still have a ton to learn. Skip mentioned that someone asked Monte Zucker what the best image was that he ever took, to that he said "I haven't taken it yet". He said that shortly before he passed away. Nearly every photographer that spoke said that if you think you're at 100% in your craft, you're done and overwith. There is soooooooooo (with a zillion o's) much to learn.
Please disregard the poor photo quality of the following images! It was very low light in the room and I had to crank the ISO, plus overhead tungsten light...ick! But I'll tell you what, I sure love these people!
Skip Cohen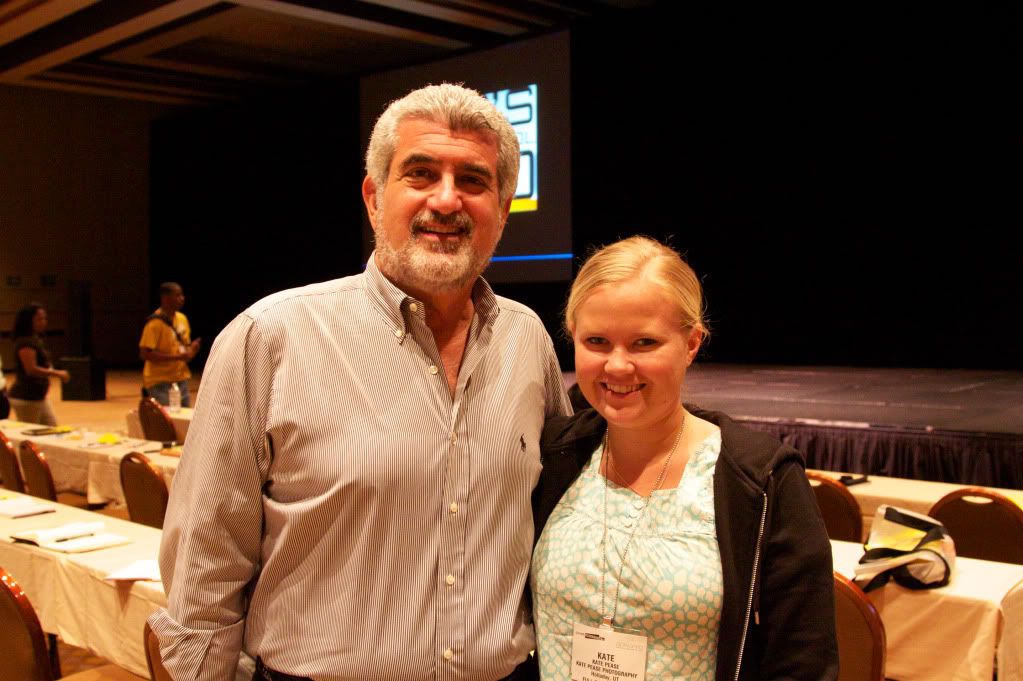 Joe Buissink
I cannot even begin to tell you how grateful I am for Scott Bourne. The man is amazing. He has done SO much for me and I am so grateful for the time I was able to spend with him. Plus he's just a big teddy bear so I've gotta love him!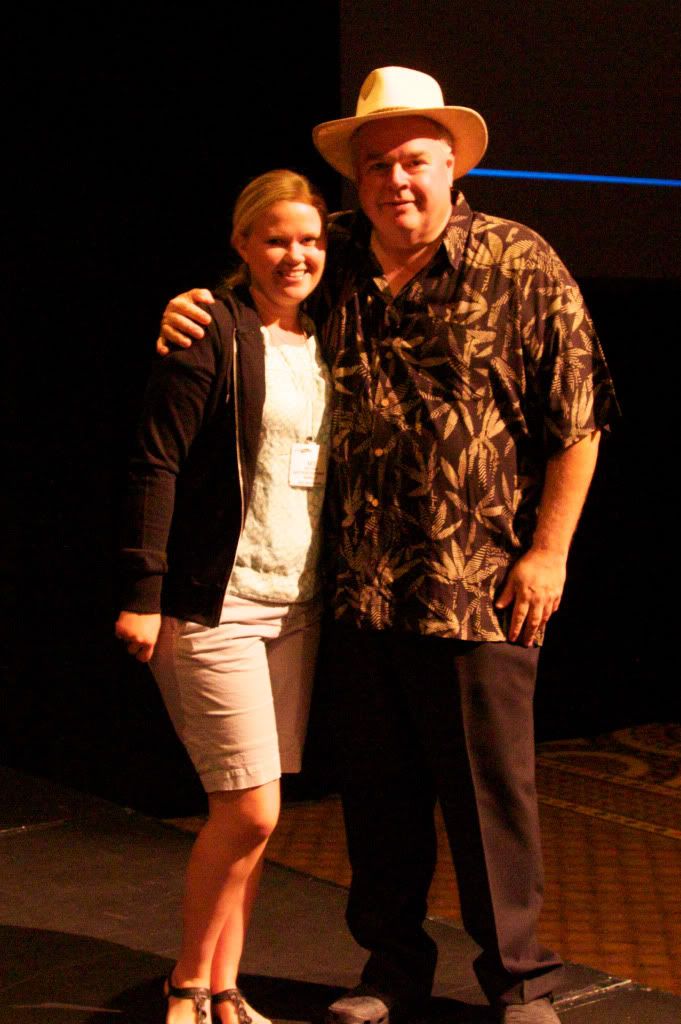 Jasmine Star!!! She is SO inspiring! Her story is amazing. She started 4 years ago knowing absolutely nothing about photography, jumped in with both feet, and is now one of the top 10 most influential photographers in the country, among other incredible awards she's received. She has been a huge inspiration for me. The girl is a rockstar.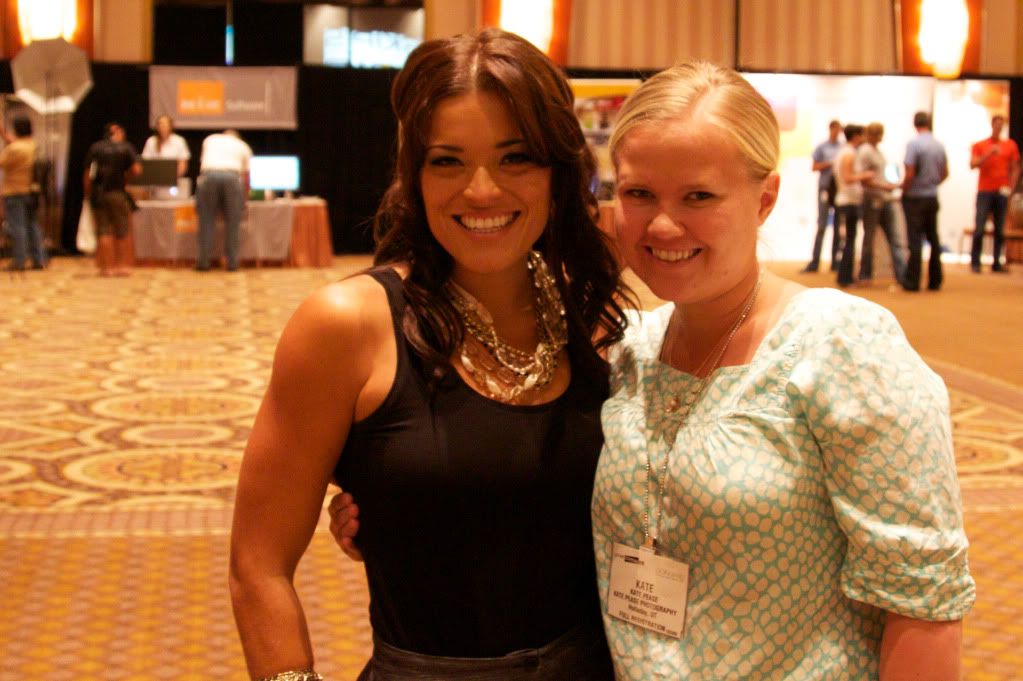 I'm so glad I went! Not only did I come away with a wealth of knowledge and a ton of amazing new friends, I won a bunch of awesome photo stuff!